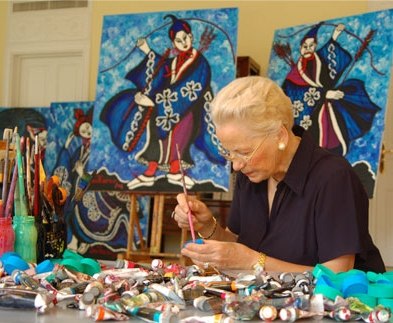 Described as a "dynamic and visionary painter" by art critic Edward Lucie-Smith, Ana Tzarev's works engage viewers with their intricate textural surfaces and vibrant colours. Her "sculpted" paint surfaces rise off of large canvases and into the viewer's space, involving them in Tzarev's distinctive visual language.
Ana Tzarev (b. 1937, Trogir, Croatia) began her career as a painter and sculptor when she was in her fifties. Her professional life and extensive travel prior to her creative career inform the style and content of her work.
Over the past two decades, Tzarev has tested the boundaries of media through explorations of tactility in oil and watercolor works. The patterns and textures that fill her canvases find root in her history as a clothier and fabric designer. Tzarev's early aptitude for knitting and sewing enabled her to attain higher education in postwar Croatia, studying the arts and eventually earning a degree in fashion design. In her decades of patternmaking and printing silks, Tzarev mastered the interplay of colors.
A fascination with the flowers and global cultural traditions defines Tzarev's oeuvre. In her collections Masterpiece Theatre: Legends of the Japanese Kabuki Stage, Spirit of Hawaii, and Journey of Discovery, energetic brushstrokes and vivid colors are used to depict movement and memory, capturing transitory moments and traditions witnessed. Her Life of Flowers collection is a lively contemplation of the diversity of form and color found in the natural world, influenced by observations of the flower markets of Europe and Asia.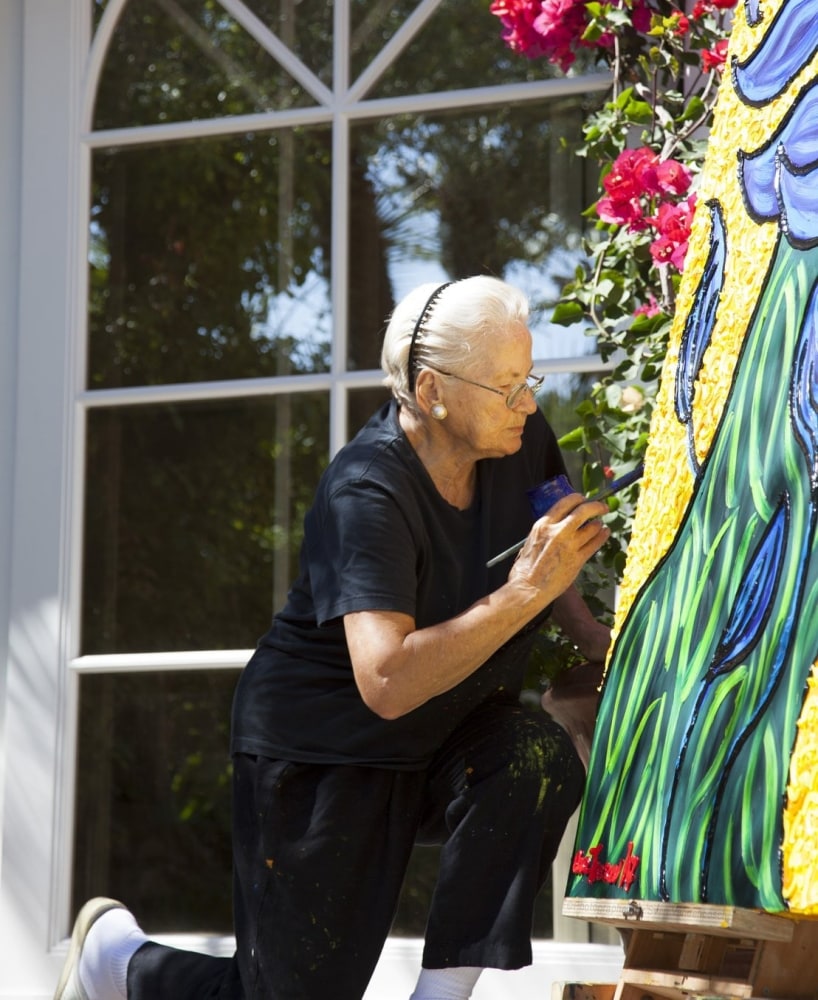 In recent years, scale has played an increasingly significant role in Tzarev's pieces, enabling the artist to magnify the sculpted textural qualities of her paint. In her Exposed and Wonderland collections, Tzarev lays out scenes across multiple panels, lending her lush, organic scenes a truly immersive quality. Flowers are brought to the forefront, each subject imbued with a sense of character and a subversion of traditional representations in art. These same qualities are present in the iconic fiberglass flower sculptures of her Love & Peace series. Just as her oil paintings engage by extending into the viewing space from the surface of their canvases, her 3.5-meter poppies and water lilies invite interaction from passersby. Tzarev's artistic output is motivated by her belief that art can be used to create positive change in the world, fostering a universal experience of springing from nature and beauty.

Since her first solo exhibition at London's Saatchi Gallery in 2012, Tzarev's works have been shown across Europe, Asia, and North America, including at the Russian Museum in St Petersburg, the National Museum in Rome, Cite des Arts in Paris, and the Today Art Museum in Beijing. Tzarev's sculptures have been installed in cities worldwide, including public exhibitions in London, Singapore, New York, and Venice during the 55th Biennale.

"[Ana Tzarev] has developed a powerful gestural style with an energy not unlike that of the post-impressionist era: an open colour, a three-dimensional brushstroke—or rather, a fiery haze of strokes drifting optically in space; a triumph of the de-reflective approach, driven towards capturing and mastering nature's signals."
— Dr. Alexander Borovsky, curator of Contemporary Art at the Russian Museum